I believe that technology is one of the best best friend for every Manager.
Leveraging technology to serve as an assistant will boost any manager and make them more productive, effective, and aware, which means more success!
Successful Managers Use The Right Tools
That's why below are the tools I use, and you may take a look ;)
Reclaim (Calendar Management)
Reclaim is a Smart time blocking for your calendar. It connects to your calendars and creates blockers for your tasks or specific habits you want to follow, such as meditation or reading!
What can you do with Reclaim.ai?
Create Tasks and manage them.
Create a blocker in your calendar for your Tasks.
Connect multiple calendars in one place.
Integrate with tools like Google Task, Trello, Asana, and more!
Create habits and follow them.
Get weekly analytics to review your weekly time spent.
Dynamic/Smart meetings with your team members (1on1).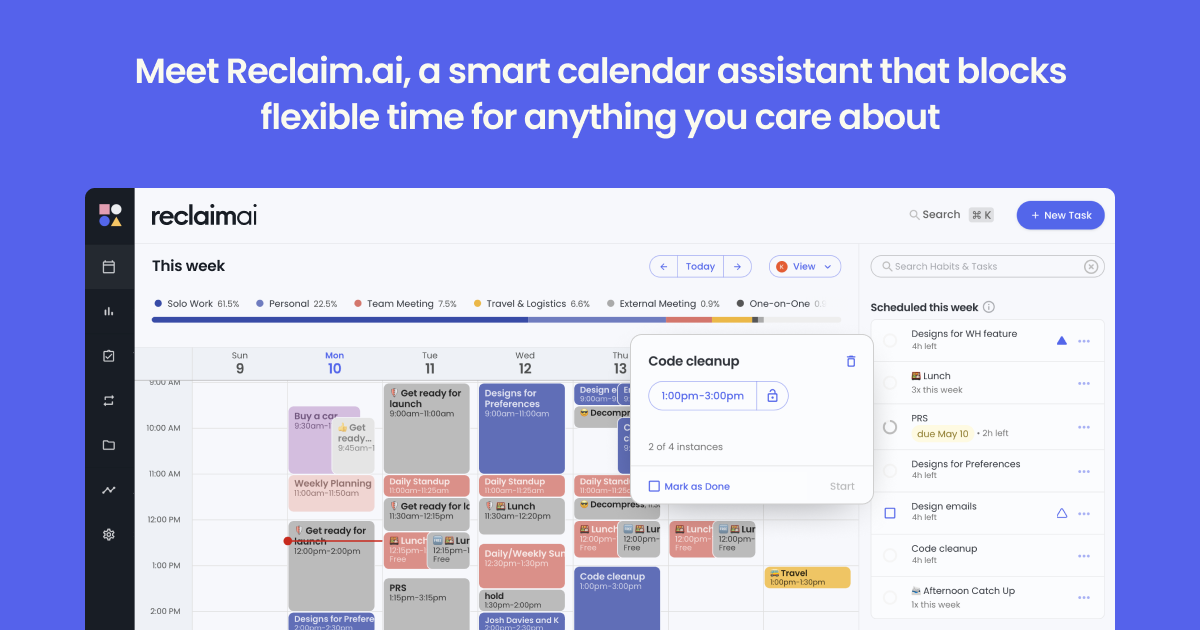 Fellow (Meeting Management)
Fellow is a tool to help you manage your meetings well! It allows teams to have productive meetings and meaningful 1:1s, build collaborative meeting agendas, record decisions, and keep each other accountable.
What can you do with Fellow?
Prepare meeting agenda.
Create accountable action items.
Create automation and reminders for people to add talking points or complete an action item
Collaborate with other members on the meeting agenda, notes, or action items via comments, likes, and tags.
Collect feedback after each meeting.
Use templates and create templates that fit your needs.

Basecamp (Project Management)
Basecamp is the only project management you need; even if you use any other tool at work, having a Basecamp account will increase your productivity by having all the project-related documents, messages, and tasks in one place.

Imagine Slack + Todiast + Google Drive + Trello (and more) in one place 💪
What can you do with Basecamp?
Create projects for every project in your life; it's all free.
Collaborate with more people on specific projects.
Attach files related to projects in one place.
Create tasks and manage events related to a specific project in a simple interface.
Stay up-to-date and track changes via the activity log in each project to see what has happened since your last check.
Broadcast messages to everyone in the project.
Connect other tools and websites such as Notion, google drive ...etc.
Grammarly (Writing)
Writing is everywhere, and as a new or experienced manager, you have to communicate with your team, manager, stakeholders ...etc. and You have to master writing your thoughts before saying them, and to write well, you need someone to help, especially if you are not a native English speaker (like myself 😄)
What can you do with Grammarly?
Check your writing for typos and grammar mistakes.
Blogging and content creation.
Use different tones and word structures based on the targeted audiences.
Zapier (Automation)
Zapier makes it very easy to do anything on the internet; For any manager, this is a game-changer! You can automate your team updates, weekly reports, repetitive copy and paste, or any long process that can become very fast and automatic, all this with some clicks and configurations.
What can you do with Zapier?
Connect 2 or more apps to do an action based on a specific trigger.
Copy information from one place to another.
Connect almost any website, tool, or mobile app.
Create workflows and processes for internal or external use.
Manage your data backups.
---
Wants more?
Check our Notion Templates below and subscribe to receive FREE content directly to your inbox. 📬
Get
📌 This list gets updated 📌
Stay up to date by subscribing to my newsletter below for more FREE tools and guides right into your inbox 😎